Dan M.

Dan the Man!!!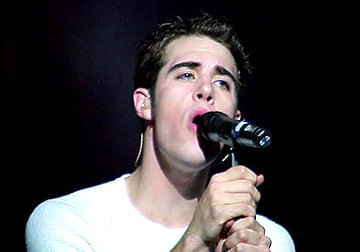 NAME:Dan Mark Miller
BIRTHDAY: September 4, 1980
MAKING THE BAND AUDITION: Nashville, TN
BEST TRAITS: The Born Leader
WORST TRAIT: "Sometimes I let things go because I don't like to be mean and hurt feelings. Sometimes you need to be a little on the meaner side to make a change, I can't do that."
EARLY JOB: A cook at a restaurant
CHILDHOOD AMBITION: To be an architect or an Olympic diver
SUPERHERO PERSONA: Mighty Mouse
HOBBIES: Hang outh with friends, play cards, shoot pool, go to the mall
FAVORITE FAST FOOD: Chicken Nuggets
FAVORITE CEREAL: Rice Krispies Treats
CLOTHING STYLE: Urban- T-shirt, jeans and a hat or bandana
COLOGNE: Tommy
BOXERS OR BRIEFS: Boxer briefs
" People can say whatever they want. We know our situation is strange because we didn't have to go through the struggle that a lot of other groups went trough, but that's why this is our story."- Dan
Dan's 3 Wishes:
1) To be able to follow his dreams
2) To meet Michael Jackson
3) That people would respect one another
Did you know that:
~He was Steve Urkel for Halloween one year
~Dan was named "best hair" his senior year in high school.
~He took Ashley's part in "One Heart" because Ashley fell asleep
~He hates the sight of feet
~He wants to become a producer.
~He had braces.
~He describes his romantic side as "gooey"
~At the Doswell, VA concert he tried to climb on top of a railing at the end of the stage. His foot slipped and he almost fell off the stage.
~He choreographed many dance and song numbers for his show choir, including Michael Jackson's "Smooth Criminal" 1998,"I'll Take you there", and "The Things You Do"
~He only wears white underwear during March.