Erik E.

Essentially Erik!!!!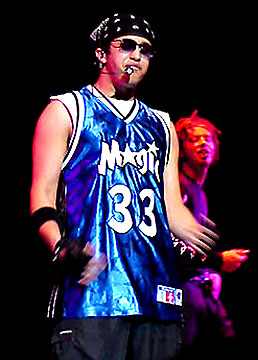 NAME: Erik Michael Estrada
BIRTHDAY: September 23,1979
NICKNAME: Logan (it's after the comic book hero Flash, whos real name is Logan)
MAKING THE BAND AUDITION LOCATION: Orlando
O-TOWN PERSONALITY: "[Being] crazy, and a leader are the strongest, but being a listner is an essential part of [being in a] group"
BEST TRAITS: "I love to learn-I'm a sponge"
WORST TRAITS: "I'm a dreamer and I play too many pratical jokes on people"
HOBBIES: Driving his car, writing songs
READING MATERIAL: Comic Books
MUSICIANS: Boyz II Men, Mariah Carey, and Michael Jackson
O-TOWN SONG: "One Heart"
COLONGE: Polo Sport
BOXERS OR BRIEFS: Boxer Briefs
THEME PARK: Disney World, especially Downtown Disney
WAY TO RELAX: Go on his Jet Skis
"I don't think I'm ever going to be that comfortable with the camera- I'm so self conscious, it's not even funny. I'm confident in who I am, and I think that's all I can be. Just get in front of a camera and be who you are." -Erik
Erik Thoughts On:

Family:
The best advice my parents ever gave me has to be, "Just remember that Jesus loves you."

Work:
My favorite part of this job is everything. I love everything about it. Even the stuff that I hate, at the same time I love. The worst part is just the excessive traveling and the traveling to many different places in a short period of time. It's a little exhausting."

Play
"When I get spare time, I do nothing but sleep!"
Did you know that:
~His fave Disney character is the Genie from Aladdin
~He went to the same high school as P. Diddy
~He's a huge Yankees fan!
~He used to work at K-Mart.
~He uses blue hair gel.
~He is a big fan of the soap "All My Children".
~His mom is a teacher at West Orange High School in Orlando, FL.
~His favorite cereal is Oatmeal Raisin Crisp.
~He wears colored contacts for his performances.
~His first letter from his fan mail bag was from his mom, asking him to call home.
~His favorite way to keep in shape is by practicing Tae Bo and fisting.
~He sang *NSYNC's "Tearin' Up My Heart" for his audition.
~Ashley and him are big SNL (Saturday Night Live) Fans, and are always doing skits.
~When Erik Trevor Ashley and Jacob were eating lunch they were talking about playing tricks on Ikaika and Erik was laughing so hard he choked on a chicken nugget
~He got sick so Dan took his solos in "You Bring Me Under".
~Trevor has a stuffed Red Dog named Legen, Erik has one named Dary. So you put them together and it's called Legendary. Cute huh?